HRYC
Month 7 (July 2018)
Our prize for July is a 400m skein of Knitsch Sock, but all you need to do to enter is post a finished square in the Ravelry thread by the end of the month. 
Below are the month 7 blanket CAL options. If you want to catch up on what we're doing, pop by Ravelry!
For more info, see our first blog post with all the details. 
Standard Single Colour
La Mer by Polly Plum (free; video tutorial) 
Autumn Sun Afghan Square by Maria Bittner (free; photo tutorial) 
Standard Multi-colour
Challenge Single Colour
Challenge Multi-Color
---
That's right! Nathan Taylor is heading down under, and we have the great pleasure of hosting him here in Wellington in September. 
If you haven't heard of this talented knitting teacher, he is in demand internationally to teach his classes on double knitting (the technique, not the yarn weight) and a method he personally developed, 'strantarsia'. So far this year Nathan has taught at Edinburgh Yarn Fest, Woollinn Dublin, Yarningham, and is due to teach at Knit August Nights followed by Rhinebeck Sheep and Wool Festival in New York State! Needless to say he's busy!
Also known as the Sockmatician, Nathan has an exceptional talent in designing socks that are both stunningly simple and incredibly interesting in their construction. 
What we're really excited about though is his expertise in double-knitting. This technique is used to created a double-sided fabric, one the reverse colours of the other. It makes some really fun imagery in your knitting:
Sanquhar Scarf by Nathan Taylor
We'd love to have you along for this rare opportunity to learn from an internationally respected teacher. Here's the details:
Sunday, 2 September 
In this class we will be exploring how the basic mechanics of D-K work: looking at the structure of the fabric, and how the two sides interact with each other to create the interlocked, reversible beauty that only D-K can give you. We'll talk a little bit about what is possible in the technique, to give you a flavour of where this foundation can eventually lead you, but we'll mostly be concerning ourselves with getting you familiar with what yarn goes where!
with Nathan Taylor
We all know that intarsia can't be done in the round.
You CAN, however, work a panel of stranded (think fair-isle) knitting in the round, where the colourwork does not go all the way round the piece, but is only worked in one specific area.
This is a technique is pioneered by Nathan and it's really fun to do. Its applications are many and various. You can, for example, put a contrasting motif on the ankle of a sock, or a sports logo on the front of a hat.
Book now to avoid missing out!
PS - we also have two scholarship spaces available, one for each class. If you would love to come but are unable to make the finances work, fill out our online form. 
Nathan is also teaching in Auckland, New Plymouth and Dunedin.
---
It really needed it's own blog post, this new yarn from Outlaw is so lush and oozing with inspiration. 
Etranger by Rie Vive has classic Japanese styling, which would be complemented beautifully by the heathered tones of Outlaw Bohemia Gothic. You'd probably get a smidge more drape than the pictured project, but I think that would help the fabric movement as you go about your day. 
It would made for an utterly fantastic Willard fair isle pullover - you could mix and match with Bohemia Worsted and Muse colours for even more options. 
For a bit of cable and texture lushness, there's Hannah Fettig's West End Cardigan. Featured in the wonderful book Texture, which we also have on the shelf at the moment!
If you fancy a big, warm, polwarth alpaca and possum hug this winter, Larch by Pam Allen fits the bill perfectly. I can just imagine walking around in the bitter Wellington wind and still feel as snug as a bug in this one.
Carrie Bostick Hodge's Forest Cardigan would pair wonderfully with jeans, a long sleeve tee and Bohemia Gothic. Simple enough for the most part, with the cables enough to keep the knitting interesting. 
Finally, if you were one of the many people who purchased issue 4 of Laine from us (thank you!), Gothic would translate beautifully into Morginn. The combination of polwarth, alpaca and possum plus fisherman's rib will make for the most squishy, cosy and cuddly cardigan I can think of. 
I'm off to daydream and swatch and drool over the colours just a bit more...
---
On my search for patterns that fit the knit gap in my wardrobe this winter, I found plenty that would also work for the kids. Simple, functional and fast (seeing as i've left it all a bit late!).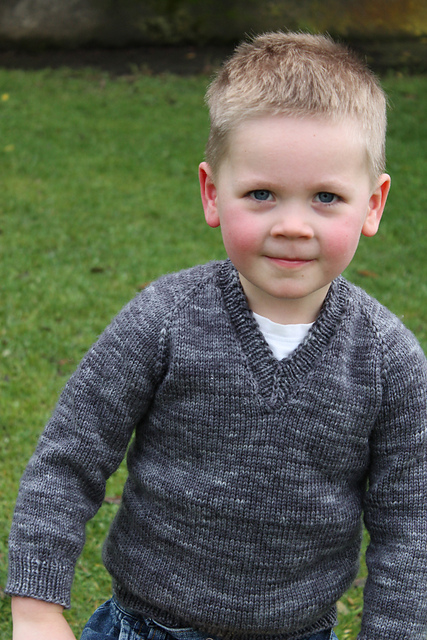 Greyson is a true kid classic, thanks to local Julia. I know she put an enormous amount of time into this pattern, and it covers the full range of yarn weights from 8ply up to 12ply. It would be hard wearing in Ashford Tekapo 8 or 12ply, and even though it isn't a machine washable yarn, still is soft enough to be next to skin and safely chucked in the wool wash in your machine.
I'm in love with the pattern detail on the sleeves of Lisa Chemery's Sagano, the reverse stocking stitch making that woven texture really shine. For cheap and cheerful Vintage will work for this one, or for a bit more stitch definition, Brooklyn Tweed Arbor will work, too.
The Bluebell Pullover by Kate Gagnon Osborn has the added bonus of the envelope neckline - making for easy putting on and pulling off! You could have loads of fun with colour combos, using up odds and ends or make your life easier with just one shade. 
Last but absolutely not least, is my always-return-to favourite that is Flax. Free! Effortlessly simple, and a great vehicle for adding your own cable panel in the middle or other details if you get bored. 
Do you have any favourite simple kids patterns? I'd love to add them to my queue!
---
Month 6 (June 2018)
Our prize for June is a Rose Marlow project bag, but all you need to do to enter is post a finished square in the Ravelry thread by the end of the month. 
Below are the month 6 blanket CAL options. If you want to catch up on what we're doing, pop by Ravelry!
For more info, see our first blog post with all the details. 
Standard Single Colour
Cabled Blooms Afghan Square by Jennifer Pionk (free) 
Someone to Watch Over Me by Polly Plum (free; video tutorial) 
Standard Multi-colour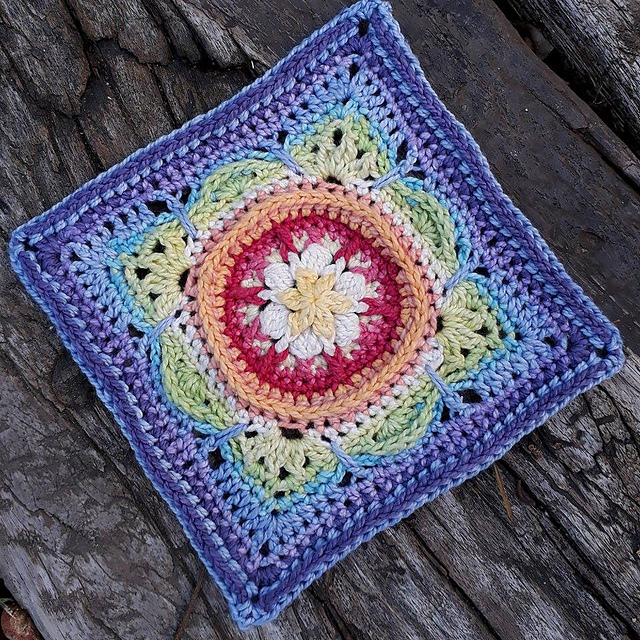 Challenge Single Colour
Challenge Multi-Colour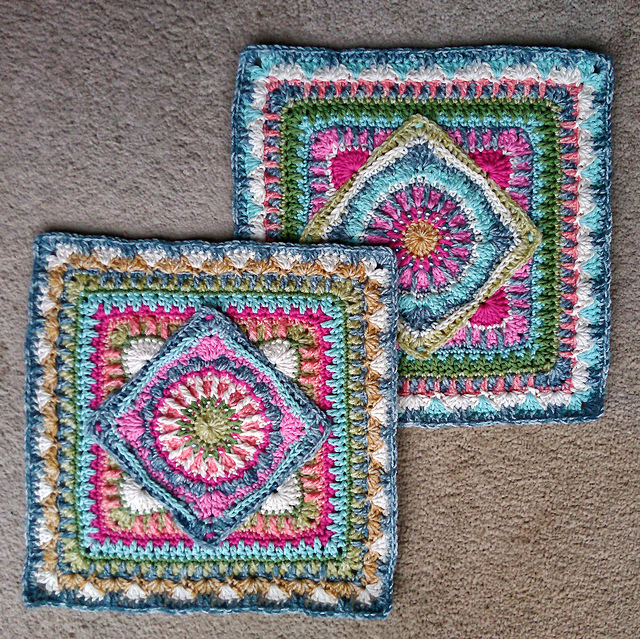 ---