HRYC
Back in 2009, all the way back when I was working at Socktopus and discovering this delightful world of hand-dyed yarn, one of the regulars introduced me to Wollmeise. 
The word was said with hushed, urgent tones, communicating the precious nature of this yarn. Stories were shared of online carts being emptied before you could check out, of the delight of the intensely saturated colour. 
I didn't quite understand until I saw it for myself. Oh. My. Wool. Loving. Heart. 
Everything they said was true. 
On my travels I managed to get along to the Wollmeise store in Pfaffenhofen, outside Munich. The lovely man working was originally from Cambridge here in NZ (of course) and I ran into Mel, my NZ friend met through Socktopus who then ended up flatting with me above the Petone shop for a couple of years.
I bought a rainbow of yarn, some of which is still preciously kept in my stash to this day. 
Some has turned into socks. 
Dawlish socks by Rachel Coopey
Rosebud Socks by Wendy D Johnson
When I had this first inkling to open a yarn store, Wollmeise was number one on my mental yarn bucket list. I never thought it would happen. 
Here I am, today, writing to tell you that it is happening. Wollmeise is in Wellington. About to be on our shelves, in New Zealand for sale for the first time ever. The cult of Wollmeise is real, and if you don't know it, do come along and find out what all the fuss is about!
Join us for Wollmeise day, the first time you'll be able to see it in the wool, on our shelves. With special appearances by Circus Tonic Handmade Revelry Sock and Knitsch Yarns Staple Worsted. Plus cupcakes!
Wollmeise Day
Saturday 6 May
10am - 4pm
Sweet Bakery cupcakes, Wollmeise, Circus Tonic Handmade and Knitsch. Plus some delightful company and giveways!
 Here's a sneak peek of what we have waiting for you...
Delightful Wollmeise Twin 
Circus Tonic Handmade Revelry Sock
and more like this!
Terms and conditions: No online sales, sorry, we will take phone orders from 12pm on Saturday. Maximum 4 skeins of Wollmeise per customer (we'll remove this limit for future stockings). No holds or laybys. 
---
 During April, our friends at Little Sprouts are running a longies knit-along, and what better excuse than to share some pattern ideas and look at some adorable babies while we're at it. We're sponsoring a spot prize - a Symfonie Deluxe needle set from Knit Pro, oooh la la!
All you need to do is knit (or crochet) a pair of longies, post a picture in the Little Sprouts event on Facebook  and you're in with the chance to win! And remember you can always drop items off to us in the shop and we'll pass them on for you. 
As an added bonus - comment on this post before Friday 14 April and one commenter will be gifted one of these paid patterns (pdf, via Ravelry). Hooray!
Toasty Waffle Pants by Kate Oates - in 10ply / worsted
Lamby Leggings by Sarah Lehto in 10ply / worsted weight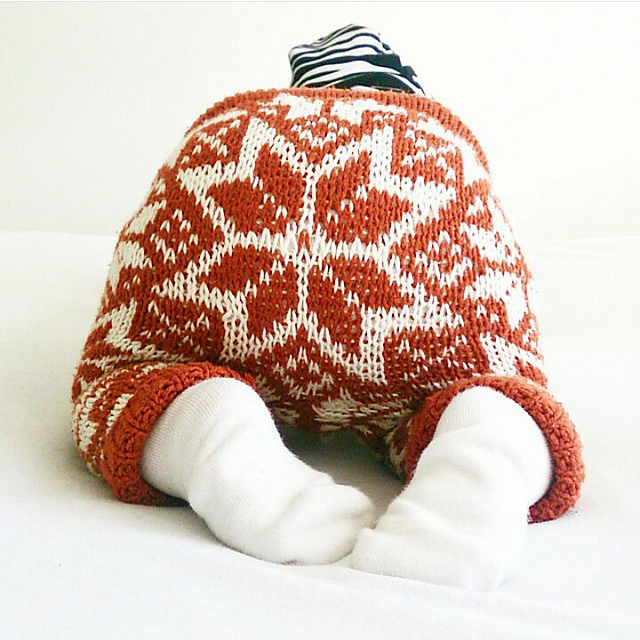 Starrypants by Tina Hauglund (how adorable is that star butt?!) in 8ply / DK
Tiny Bird Soaker Pants by Jenny Rasmussen - in 4ply / fingering (free pattern)
Rocky by Tincanknits in 4ply / fingering
Balloon Baby Pants by Ingrid Aarten Bøe in 4ply / Fingering
---
The call of Outlaw Queen Bee was much too enticing to resist, and I always seemed to be knitting it on days when the sun was hiding. So here we have the Golden Days blanket - if you sat down and focussed, you could knit it up in a couple of evenings. Big needles, chunky yarn, a super smooshy blanket.
I held the cable stitches on my fingers as it was the quickest and easiest way with such big stitches.
25mm needles
6 skeins Outlaw Queen Bee in colour Arabella
Finished size: 117cm wide x 131cm tall (approx)
Gauge: 10 sts and 13.5 rows = 30cm
CO 48 stitches
Row one: K6, p10, k16, p10, k6
Row two: Knit
Repeat these two rows twice more


Work cable row, then continue in pattern.
Repeat cable row every 14th row until 6 cables completed..
Cable row: k6, c10b, k16, c10f, k6
Work in pattern for 5 more rows
Cast off loosely and weave in ends.
Abbreviations:
k - knit
p - purl
c5b - slip 5 sts onto cable needle, hold to back, k5 sts, k sts from cable needle
c5f - slip 5 sts onto cable needle, hold to front, k5 sts, k sts from cable needle
© Tash Barneveld 2017 for personal use only
---
A variation on our much-loved Jackson Blanket, we're pleased to bring you the Jackson Scarf! 
Yarn: 1 ball of Outlaw Yarn Bohemia Sport in Tarnished, Absinthe, Gaslight, Fog and Old Beau
Needles: 3.50mm
Blocked measurements: 26cm wide, 1.9m long (approx)
Cast on 79 stitches
Set up rows:
Row 1 (pattern row): k2, *k2tog, k10, m1r, k1, m1l, k10, ssk, repeat from * to
           last 2 sts, k2
Row 2 (wrong side): knit
Repeat rows 1 and 2 twice more
Main body rows:
Row 1 (right side): work pattern row as above
Row 2 (wrong side): k2, p to last 2 sts, k2
Repeat rows 1 & 2 11 more times (24 rows total)
Change colour
Repeat main body row instructions 18 more times - four stripes per colour.
Final colour: work main body rows 9 times, then work set up row instructions 3 times.
Cast off, weave in ends and block.
Abbreviations:
k - knit
p - purl
k2tog - knit two together
ssk - slip ,slip, knit two slipped stitches together
m1r - insert left-hand needle, back to front, under strand of yarn between stitch just worked and next stitch on the left-hand needle. knit through the front loop
m1l - insert left-hand needle, front to back, under strand of yarn between stitch just worked and next stitch on the left-hand needle, knit through the back loop
© Tash Barneveld 2017 for personal use only
---
Over the weekend I was despairing at the state of the world, and decided we can do something to help those close at home, together.
Little Sprouts put together boxes of baby gear for those in need - packs go to:
- Families with premature or unwell babies,
- Women escaping from domestic violence,
- Refugees starting a new life in New Zealand,
- Young parents without support networks,
- Families living in an ongoing cycle of poverty and more.
Little Sprouts have crafters in need of supplies to make knitted items for these boxes. So we're putting out the call!
Drop your left over yarn, or yarn you think could go to a better home, in to us. We'll pass it on for you.
It needs to be 100% wool or cotton (or a high wool content) and machine washable. Minimum of 20g if it's a leftover, please. 8ply and 4ply yarns are great for hats, cardigans and booties, so if you have odd ands ends from your projects in these weights, they'd be perfect. 
Over the next few weeks we'll also start a KAL for hand knits to donate as well. 
Together we can do our part to enable Little Sprouts to bring joy and a an extra hand to those in our communities who need it most. 
---